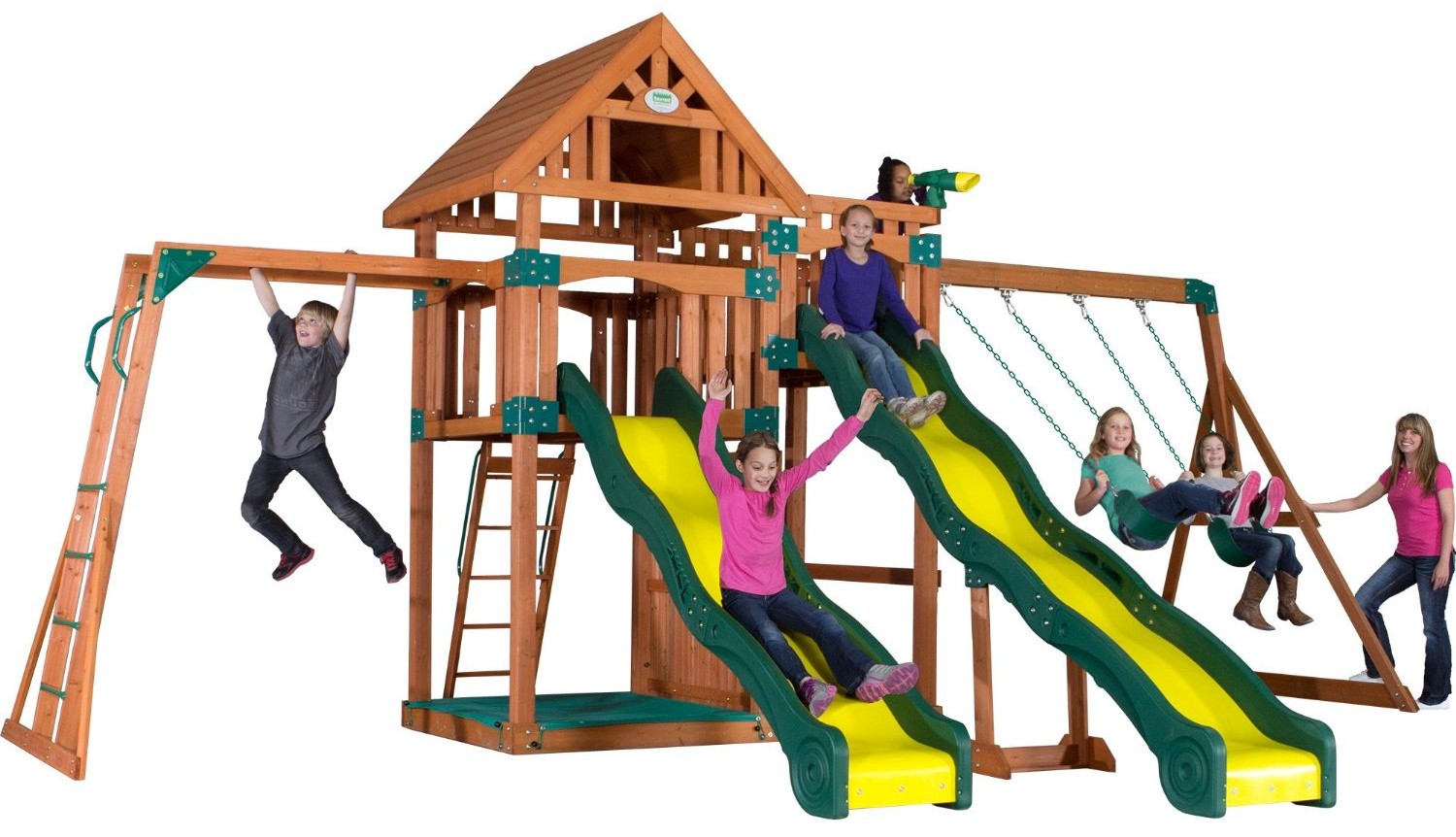 Backyard Discovery Swing Set Reviews
I'm sure if you have done any sort of investigating into the best swing sets you surely have come across Backyard Discovery and their beautiful swing sets.They are one of the largest companies that produce swing sets and accessories. Their expertise even goes as far as playhouse and outdoor patio products such as basketball hoops and trellis'.
With their home company based in Kansas, it is a perfect location for nationwide coverage of their products from coast to coast. Together they have branded several other companies including Backyard Adventures, Create-N-Adventure, Adventure Playsets, and more much! They have expanded their quality across these brands.
Nationwide Company
Even if you haven't researched swing sets you may still recognize the name due to the fact that it's a brand readily seen at Toys R Us, Walmart, Sam's Club, and many other stores. That in itself tells you of it's nationwide status along with it's ability to meet many different big name store standards.
Backyard Discovery does have several standards that they personal meet, one of the more important things being that they use high quality cedar for all their swing sets. This is a naturally durable wood that is also beautiful for any backyard.
Quality Ratings From Big Stores
One of my biggest reasons for wanting to promote Backyard Discovery Swing Set reviews was for the fact that most of their products have high ratings on Amazon, Walmart, Sears, and many others. It's hard to find a review that isn't satisfied with the Backyard Discovery swing sets on a reasonable level.
I myself have bought a Backyard Discovery Swing Set and have been very pleased with the outcome of the product. My children certainly enjoyed spending lots of summer hours playing on it. It was always nice to sit back and relax knowing that it was a quality swing set that will last for many summers to come.
Backyard Discovery Swing Set Reviews
I have gone ahead and picked out three of the best Backyard Discovery Swing Sets Reviews to give you quality information that you can use as you look into purchasing the best swing set. And when you are ready to make your purchase go ahead and click through one of the links on the page for safe and fast check out!
Backyard Discovery Reviews Crestwood Playset
For our first Backyard Discovery Swing Set Reviews we are looking at the Crestwood Playset. This beautiful playset is a very general swing set that is perfect for all sizes. It's not too big, yet not too small. It has most, if not all, of the features you would normally find on a swing set.
Features:
2 slides– one 10ft. one 12ft.


Monkey Bars

Side porch with 6-ft high deck

Snack window wall below fort with attached deck and 2 pedestal seats

Telescope (no magnification)
I really wanted to take this time to also point out the beautiful playhouse that sits 5ft off the ground. It's a beautiful build that just makes thee swing set. It's roomy and allows for a lot of play time. Adding a telescope and no one, but two slides just makes it that much more awesome.
Quality, Sturdy Build
This swing set not only has many awesome features but is also built from quality, sturdy cedar wood. With all the wood pre-treated, pre-stained, and pre-drilled you won't have to worry about messing around to find the right hole to screw together.
5 Year Warranty
Backyard Discovery is so confident in their product that they have given their swing set a 5 year no-rot wood protection so you don't have to worry about the wood breaking down for whatever reason. 5 years is an awesome warranty as most kids probably spend most their years playing on a swing set between 7-12.
Click Here to Buy Crestwood All Cedar Wood Playset

Summerstone Cedar Summit Playset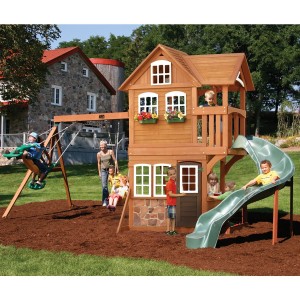 For our next Backyard Discovery Swing Set Review we are looking at the Summerstone Cedar Summit Swing Set. If your child is particularly fond of playhouses but you still wanted the enjoyment of swinging available then this may be the swing set for you!
2 Level Playhouse
This Backyard Discovery swing set has not only one level  of playhouse— but 2! You don't see that very often for any kind of playhouse. The bottom level has a beautiful door and set of windows. Also, on one side of the playhouse is a snack bar complete with a eating bench. This will allow their imaginations to take flight!
The second level, which you can access from the rock climbing wall, also has another beautiful set of windows as well as a sun deck. The way down is simple– a curvy slide! The second level also offers flowers boxes under the windows to allow you to personalize.
 Official features include:
Large Upper Deck measuring 72″ x 38″ (19 ft2)

Deluxe Lower Clubhouse measuring 55″ x 37″ (14.13 ft2)

Rock Climbing Wall

Spiral Wave Slide

2 Belt Swings


1 – 2 person Glider Swing with soft touch rope
Backyard Discovery Swing Set Reviews
Overall this is a beautiful playset, especially for a child that loves playhouses. Imagine all those hours of playing and allowing their imagination running wild. And not only that, but it will be a beautiful addition to your backyard with it's sturdy, quality finishes and elegant accents.
Click Here to Buy Summerstone Cedar Summit Playset
Backyard Discovery Santa Fe Wood Swing Set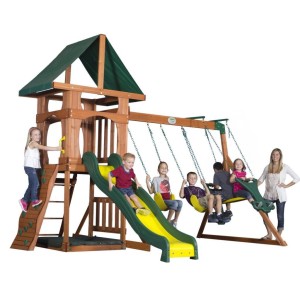 For our last Backyard Discovery Swing Set Review we have the Santa Fe Wood Swing Set.  If you are looking for a swing set that perhaps are on a budget but don't want to sacrifice quality— this is the swing set for you.
Coming in on the lower end of swing set doesn't mean that we need to not get everything that the more expensive swing sets have. This swing set is just that. It has most of the features that bigger swing sets have, but without the high price tag. Best of both worlds!
Official Features Include:
2 belt swings

2-person glider

Solid rock wall with waves for adventurous fun

Wide upper deck with colorful canopy

Wave Slide

Second Level Playhouse with weather resistant canopy
Backyard Discovery Swing Set Reviews
The biggest thing you don't want to sacrifice though is quality. As always, quality is super important for swing sets especially since they not only have to endure the abuse of rough children, but also the weather. But with Backyard Discovery you can bank on the quality of the wood that they provide for their swing sets!
Click Here to Buy Santa Fe Wood Swing Set