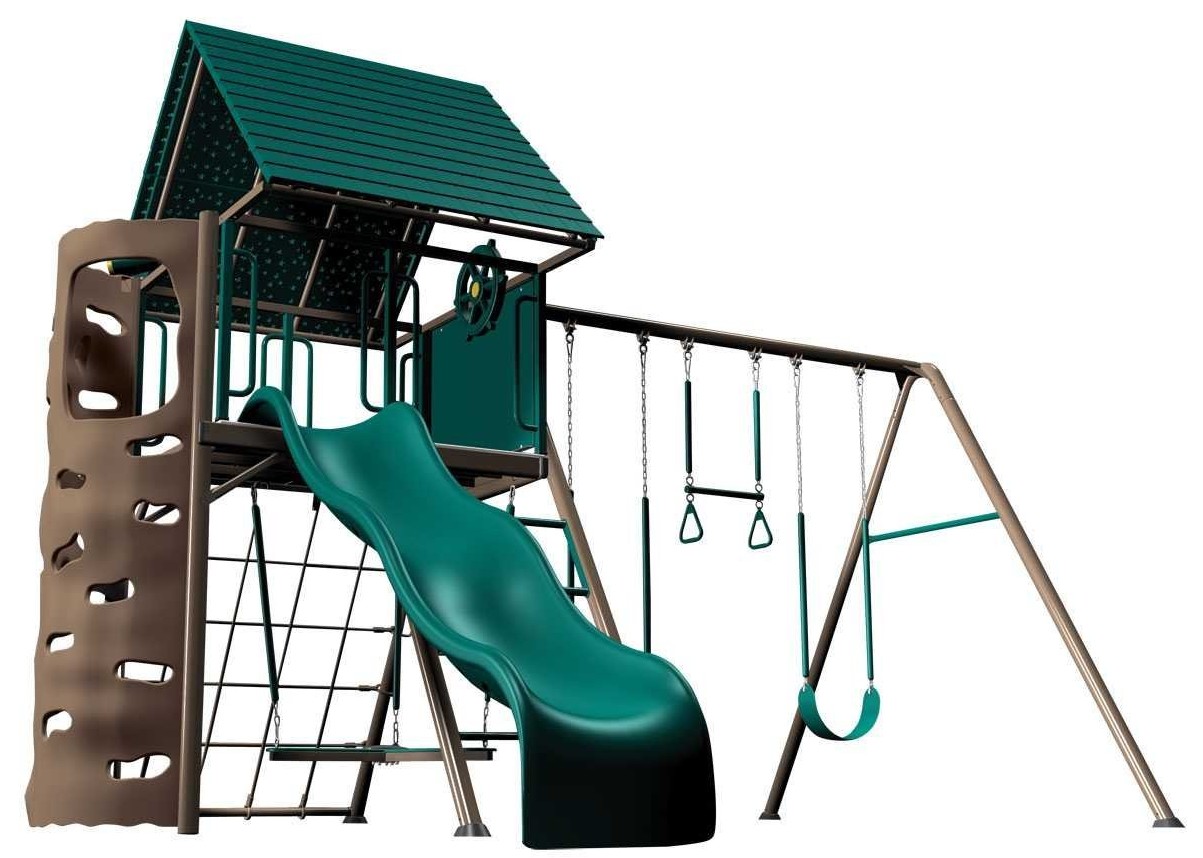 Click Here to View Top Rated Swing Sets 
Lifetime Swing Set Reviews
When doing my research for the Lifetime Swing Set Review you would not believe how impressed I was with Lifetime swing sets. These beautiful swing sets are definitely a top notch, in my opinion. They have taken backyard swing sets to a whole new level.
History of Lifetime
Lifetime is all in the name. It stands for quality and that lifetime usage without breaking down or falling apart. The company started as one father that just wanted to build a better basketball hoop for his son. It turned into something greater. With over 1500 employees dedicated to the stability and quality our generation of kids deserve you really can't go wrong.
That's right, they didn't even start out as a swing set company but grew into it and delivered above par! So if you are looking for some other quality outdoor products you know where to go now.
Mixture of Class and Strength
What's different about Lifetime Swing Sets compared to most swing set companies is the materials. These days, most swing sets are consistently made out of wood— specifically cedar. The other other are the simple metal swing sets that have long ruled swing set world with the rather plain features.
With Lifetime they have been able to give the quality that most wooden swing sets possess while uniquely combining the metal swing set look. The result is a classic, elegant, strong Lifetime swing set that last exactly what their name says: Lifetime.
Maintenance Free
Lifetime has taken metal swing sets up a notch when several of their designs. They are modern yet appeal to kids. If you are unsure about having a swing set in the backyard because you feel it may clutter the yard, you really don't have to worry about this with these swing sets.
You also won't have to worry about the breakdown that other wooden swing sets have either. The beautiful colors will only enhance the backyard and you will never have to worry about the maintenance of a wooden swing set.
______________________________________________________________

Lifetime Monkey Bar Adventure Swing Set
For our first Lifetime Swing Set Review are looking to this Monkey Bar Adventure. Even with the wooden swing sets you don't see too many swing sets with monkey bars, which is why this one is so unique.
It's not often that one sees a product that is so higher rated. This products has been given a 4.7 out of 5 stars with 197 reviews. That's amazing. That really shows the satisfaction and quality of not only the swing sets itself, but the company as well.
Features:
3 Belt Swings

1 Trapeze Bar with Gym Rings

9′ Wavy Slide

Fireman's Pole

Monkey Bars
Pros: This swing set has safety in mind for our precious kids. The hard edges are rounded out and covered with plastic caps and rubber grips to help from pinching, bumps, and bruises.
This is also a free-standing unit. No cement needed. Skip the staining and painting until the wooden competitors. Also, unlike wooden swing sets you will never have to worry about cracking, warping, rot, or decay.
5 year limited warranty.
Cons: Although you won't have to worry about this maintenance free swing set, it does come with a price at times. Assembly is not for newbies. If you are not familiar with basic tools or hardware, you may want to find an installer to help.
Lifetime Swing Set Reviews
This is an awesome swing set that will endure not only your children, but many years of weathering. The beautiful colors will compliment your backyard. If you are looking for something different from the usual wooden swing sets, but also wanted more quality and stability than the cheaper metal swing sets offer, this is a great option.
Click Here to Buy Lifetime Monkey Bar Adventure Swing Set
______________________________________________________________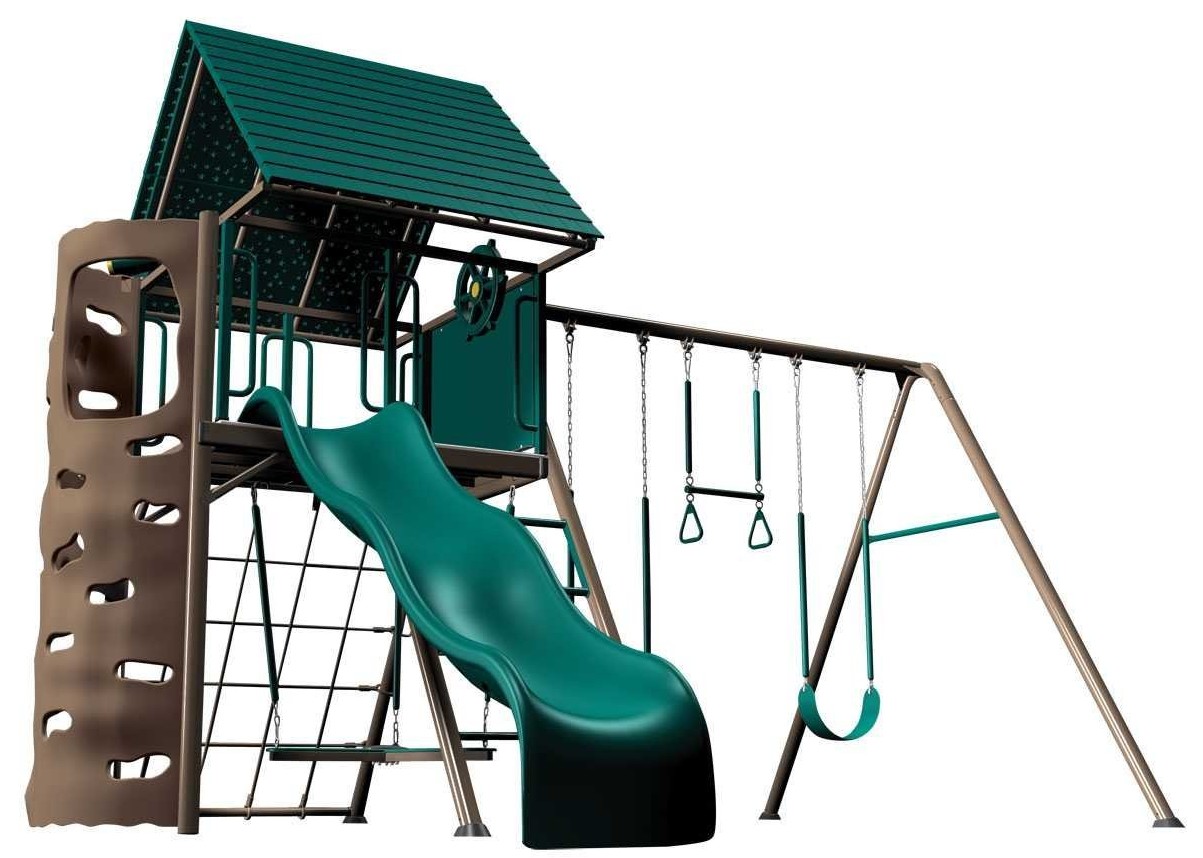 Lifetime Big Stuff Adventure Play set
For our next Lifetime Swing Set Reviews we are actually reviews the Big Stuff Adventure that I have recommended on our metal swing set reviews as well. So overall, it's safe to say that I highly recommend this swing set.
I really do like this set. It's modern yet simple.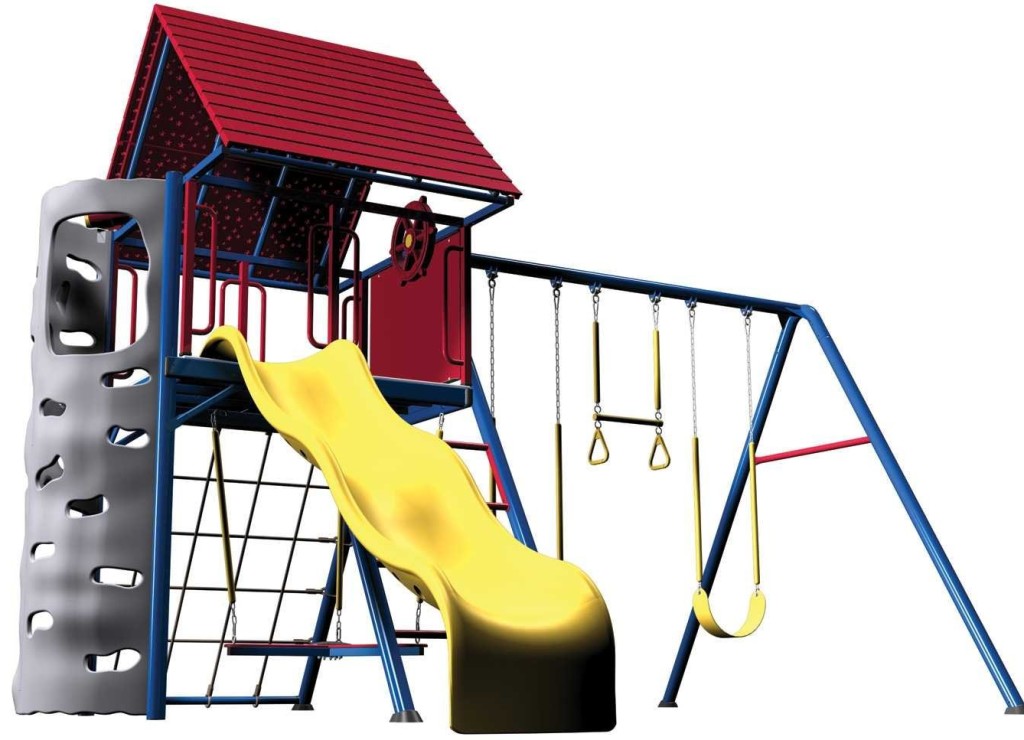 There are two  different colors available. The muted colors in tan and green or a primary colored look featuring red, blue, and yellow.
Along with the colors and structure I really just love that it is a no maintenance swing set. You don't have to worry about spending hot summer months out there sanding and staining once a year. Making sure the kids don't play on it while you are working on it. With the best metal swings set the only thing you need to worry about in the initial assembly and the rest is taken care of.
Features
Wavy Slide
2 Swings
1 Trapeze Bar
Rock Climbing Wall
Activity Board
Propeller Swing
Cargo Net
Pros: All of Lifetime's swing sets have taken quality safety to the next level. In order to do this they have made sure that every sharp edge and corner is protected. This also includes the chains for the swings.
Cons: Like their other swing sets, this is a heavy duty swing set. Although you don't need cement or anchoring, you do need to be skilled enough to feel comfortable to put this together. If not, there is an assembly also available on Amazon that you can set up along with your purchased order.
Lifetime Swing Set Reviews
I'm a huge fan of this swing set. I love so much about it. It gives the look of the wooden swing sets but the classic and elegant look of the metal swing sets. The heavy duty material could withstand everything your kids bring at it. All the years and weathering have met their match with this swing set.
Click Here to Buy Lifetime Big Stuff Adventure Play set
______________________________________________________________

Lifetime Adventure Tower Playset
For our last Lifetime swing set review we have another beautiful playset that will surely keep your kiddos busy in the summer. It looks like this swing set is not quite as big as the other swing sets we reviews, but after reviewing, I can tell you that it is indeed quite the same large size that the previous two playsets are.
The biggest difference with this one is the second story clubhouse. It has a very wide round second level that would be perfect for a club meeting. Or perhaps a little girls tea party? Or a boy's hide out area? Either way, this is super adorable.
Features
Second Level Clubhouse with Hardtop Rood
2 3D Climbing Walls
Wavy Slide
Lower Level Hideaway House
2 Swings
1 Trapeze Bar
Pros: All the material used in this playset is UV resistant, meaning it will not break down due to sun exposure over the years. No cracking, rotting, or splinter, like you may have to deal with in cheaper playsets.
Cons: Like discussed with the other playsets on this page, these are pretty heavy duty swing sets and you may need to have a little help when setting up. Assembly is available through Amazon to be included in your order.
Lifetime Swing Set Reviews
This is a beautiful swing set that will provide a lot of fun times for your kids throughout the years. The colors are fantastic and will be a great addition to any great backyard.
Click Here to Purchase Lifetime Adventure Tower Playset