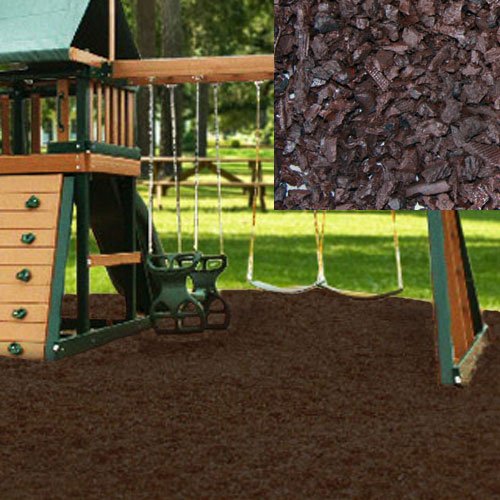 Rubber Mulch Review
Rubber mulch is one of the most popular up and coming products when it comes to playgrounds and outdoor areas. It's not surprise why, it's safe, durable, and gives off a beautiful appearance.
In case you aren't familiar with what exactly rubber mulch is, basically we have found another use for old tires that have been sitting in landfills doing nothing. We have taken these old tires, grounded them up into chip sized pieces and have now placed rubber mulch for playgrounds.
Rubber Mulch For Playgrounds
The biggest reason people are buying this product is for the safety. Rubber mulch for playgrounds been proven that with a 6inch depth of rubber mulch that it helps decrease injuries on the playground. Hospitals see over 200,000 children because of playground related injuries. With the rubber mulch, we can help lower that number.
Durability
The best rubber mulch is 100% recycled material, so not only are we helping the planet by reusing old tires but we are using it to create a safer environment for our kids.
For years, we have been using wood chips and rocks for our playgrounds. But other time these materials break down and have to be refilled over the years. But with the best rubber mulch we no longer have to do that as often. The tire is durable and stays around for our kids much longer than wood chips or rocks ever did.
Appearance
Personally,  I love the appearance of the rubber mulch. You can usually choose between several different colors to match your preferred choice. Some have even started using it in their respective garden beds and the result in gorgeous.
Not only is the rubber mulch beautiful, but if you do the set up right with some weed barrier fabric, you can also avoid those pesky weeds that pop through. With wood chips you run the risk of transferring weed pods that will grow within the wood chips. No longer is that a risk with the best rubber mulch.
Cost
The only thing that really holds people back from rubber mulch is the cost. Although it's not the cheapest option, I believe it does provide the best long term investment. With time and costs of materials year after year on wood chips or rocks, save yourself the headache by an investment that will last so much longer.
Rubber Mulch Reviews
Because it is a newer products finding the best rubber mulch reviews proves to be a little tricky since there are only a couple few places that offer it for purchase. Lucky for you, I'll show you not only the place to buy it, but what is the best rubber mulch to buy.
____________________________________________________________

YARDWISE Landscape Rubber Mulch 75 Cu.Ft. Pallet-Mocha Brown Color
For our first best rubber mulch review we are looking at Yardwise with their awesome rubber mulch. Yardwise has been given great reviews by their customers for offering a beautiful and quality product.
In this case, the option is to by a pallet of rubber mulch that will cover 450 square feet at 2 inches deep. That is a great start for setting up an awesome playground area or a beautiful garden.
Classic, Elegant Look
The beautiful Mocha Brown color is prefect to a rich, elegant look. In fact, from a ways off you really can't tell the difference between rubber mulch for playgrounds as a rich wood mulch. Yet the best rubber mulch will hold the color and not break down like wood mulch does.
No More Bugs!
If you are worried about plants surrounding your garden or play area. Don't. This best rubber mulch allows for breathe-ability and will not  prevent water from reaching the soil or plants. And what's even more is that it will no attract those pesky insects either.
Free Shipping
On top of all of that, Yardwise offers free shipping to: Pennsylvania, Oklahoma, Alabama, Arkansas, Connecticut, Florida, Delaware, Georgia, Texas, Tennessee, South Carolina, Illinois, Virginia, Louisiana, Kentucky, Maryland, Massachusetts, Mississippi, Missouri, District of Columbia, New Jersey, West Virginia, New York, North Carolina
Pros: The beautiful rich color that will never fade. Pallet order for great start to cover large area. Free Shipping.
Cons: Price tag is a little high for any rubber mulch, but the return on invest is great.
Rubber Mulch Review
Yardwise offers a great deal in bulk orders, this being one of them. The have a great product in a beautiful color. If you are looking for another color, I'm sure they have it as well. Let Yardwise be an option to create a beautiful escape to your yard.
Click Here to Buy the YARDWISE Landscape Rubber Mulch
____________________________________________________________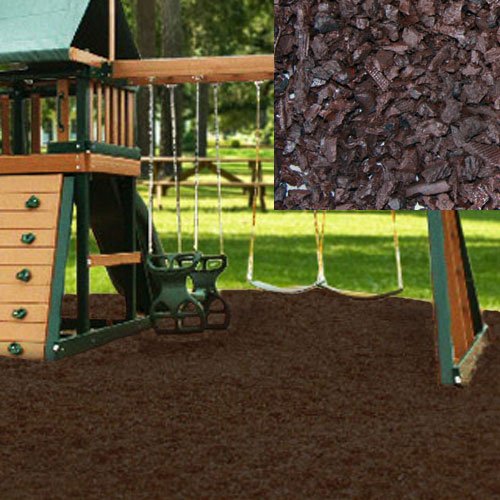 Rubber Mulch 75 Cu.Ft. Pallet-Chocolate Brown
For our next rubber mulch review we are taking a look at this pallet by KidWise.
Working hand in hand with Yardwise to give kids a safe area to play and have fun, this quality rubber mulch for playgrounds is great for any garden area as well.
No More Splinters!
Not only will it help keep kids safe in falls, but you also don't run the risk of splinters from wood chips or cuts from rocks. If your kids are anything like mine you know that shoes don't often stay on when at the playground.  And sometimes you end up having to cut their play time short due to some sort of injury or cut.
No worrying about those types of situations when you have rubber mulch.
Pallets for Convenience
Often times it is hard to judge exactly how much mulch one will need for a play area. We buy bags. Fill the area. Have to go back and buy more bags. Fill the area. Have to go back again….
With the pallet level purchase you can buy it all in one transaction. No more unneeded trips to stores, waiting in line, using gas, etc. This pallet covers 300 square feet at 3 inches deep. Which is plenty for average swing set areas and then some. You may even be able to have more depth (which adds to the safety) for a smaller area.
Pros: Safe for play, rated for falls twice as high as other materials.
Cons: Although you won't have to deal with splinters or cuts, rubber mulch is still equally dirty and your kids may be in need of baths after play.
Rubber Mulch Reviews
This is awesome rubber mulch. It's beautiful and quality is superb. The coloring is rich and holds it's color much longer than any wood chips ever could. Not only do you get to enjoy its beauty, but the safety ratings are an outstanding benefit. Additionally, like Yardwise, shipping is free to select states!
Click Here to Buy Swing Set Playground Rubber Mulch 75 Cu.Ft. Pallet-Chocolate Brown
____________________________________________________________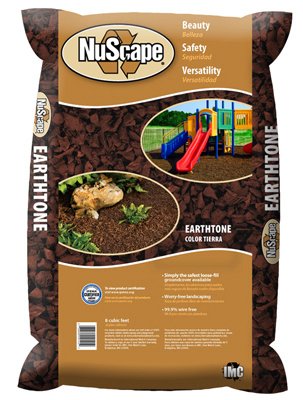 NuScape
.8CUFT Earth GRND Cover
For our last rubber mulch for playgrounds we are looking at the Nuscape- International Mulch company with their best rubber mulch. They make several different outdoor rubber products that are great for any yard!
The biggest difference with this particular brand is that ordering will only be one .8 cubic feet bags versus whole pallets.
Pallet vs. Bagged
This is the best way of ordering if you are looking to just resupply your area as compared to supplying a whole new area. If you are looking to set up a whole new area, the best deals would be under the pallet pricing.
Along with the other products, this is some of the best rubber mulch. The color keeps really well and is a great, safe alternative to wood chips or rocks.
Pros: Available for smaller areas or to refill playgrounds and gardens
Cons: The bags are a little smaller, but on the other hand it is great for shipping and so you don't have to deal with a lot of leftovers.
Best Rubber Mulch
Another great product that will surely do the job of protecting our kids while they play, as well as looking amazing while doing so. Say goodbye to insects and weeds and hello to a beautiful and safe playground and/or garden!
Click Here to Buy .8CUFT Earth GRND Cover