Wooden Swing Sets Under $500
Finding the best wooden swing set under $500 shouldn't be hard. But unfortunately if you don't know where to look, it can be. So it's pretty awesome that you found us here at SwingSetResource.com so you can make sure you are getting the best wooden swing set under $500!
As parents, we want the best for our kids, even if it means being on a budget. But it also means we don't want to compromise for quality and durability. Finding the best wooden swing set under $500 is no exception. Regardless of how much money we want to spend on something doesn't mean we should be offered junk from the manufacturer's in the process.
Luckily, we have come across a couple of really great swing sets under $500, and I'm pretty excited to share them with you!
Consider the Best Metal Swing Sets too!
Keep in mind that if you don't find a wooden swing set that you think would match your needs, there are plenty of awesome metal swing sets that would be just as much fun as well as keeping within the budget. I grew up on a metal swing set and let me tell you, a lot of good fun happened on that swing set!
In Case You Didn't Know
If you are buying your first wooden swing set do keep in mind that there is some care that it involved as compared to the metal swing sets. You  need to regularly watch for rot and decay. Make sure that the wood isn't splintering. And it's always best to  stain and or seal your wooden swing set each year.
Overall, if you can afford it, the best wooden swing sets do have a lot of benefits and will surely be a great addition to almost any backyard as well as to your child's playtime!
_______________________________________________________________________________________
Backyard Discovery Peninsula All Cedar Wood Playset
We start off with this Backyard Discovery Wooden Swing Set Review. Backyard Discovery has long been a great company to buy swing sets from. We had one at one point and it was a really great swing set. The kids played on it endlessly.
This wooden swing set under $500 just makes the cut at $499. Yes, it may be a little on the high end, but it is also on the high end for quality and features while still giving you the benefit of being under $500. Win, win, win in my book!
Great Company, Great Quality
A great thing about buying a top rated wooden swing set from Backyard Discovery is the fact that they do have a 1 year warranty on manufacturer defects on parts as well as a *5* year warranty on the cedar wood for rot and decay. That's a pretty good deal in my book! I am definitely more comfortable buying a swing set with a warranty.

Features:
1/2 Picnic Table with Bench

8′ Yellow and blue Wavy Slide

Two Belt Swings

1 Trapeze Swing

4′ Rock wall ladder

Look Out Tower
Pros: Lots to do.  Great Quality. Great Company that offer warranty.
Cons: Even though it is on the top of the $500 budget it does offer quite a bit. In the long run it gives children a great time for several years. That is just something you can't put a price tag on.
This is a great wooden swing set under $500. It has a lot of features that those swing sets for $1000 cost, but you get to stay on budget while still getting a great swing set!  It
Click Here to Buy Backyard Discovery Peninsula Wood Playset
____________________________________________________
Wooden Cedar Swing Set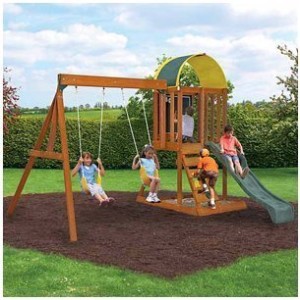 Our next wooden swing set under $500 is the Wooden Cedar Swing Set by Cedar Summit. This swing set got awesome reviews, especially for the price! This one is just as great as the swing set above except cheaper!
Coming in at $453.99 this swing set definitely meets the under $500 qualifications. It also isn't bad quality considering the price is cheaper ad meets the guidelines for the budget. Made with a cedar wood that is known to be durable, and if that isn't enough this swing set comes with a 10 year warranty.
Features:
Tower with Canopy
Rock Wall Ladder
2 Belt Swings
Wavy Slide
Chalkboard on Second Level
Lower Level Sandbox
Pros: Cheap price, meets the budget, unique chalkboard, lots of features
Cons: It's been said that the wood is not the greatest. But considering this is a starter swing set and for the price it's not a bad trade off. But the wood does comes with a 10 year warranty to make purchasing a little easier. If you are looking for a more sturdy and durable swing set, check these out.
Overall, this is not a bad swing set to start out with. It offers a lot to keep those kids busy during the summer! If you aren't sure how much your kids will enjoy playing on it, or if they are young, this is an excellent swing set to start out with. It meets your needs while still keeping to the budget.
Click Here to Buy Wooden Swing Set
Swing-N-Slide Orbiter Swing Set
For our last wooden swing set under $500 review we are going to do something a little different. Different isn't always bad, right? That isn't the case here either.
This wooden swing set is going to be just swings! And because it's just swings it definitely meets your budget at only $305. And if your child much rather prefers just swinging then this is the perfect swing set for them!
Another great thing about this swing set is that it comes with a 5 year warranty on any rot or decay off the wood. You can buy knowing that you are protected against those things.
Features:
Maintenance free wood

Quality wood that is sturdy

2 belt wwings

1 ring trapeze bar
Pros: If you are looking for just swings, then this is definitely the set you are looking for. It is sturdy and made from quality wood. Meets the budget of being under $500.
Cons: It is just swings. If you are looking for a swing set with several different features one of the top two  would be a better option or click here to check out some other ones.
This is a great set if you aren't looking for anything fancy and actually prefer just swings. This is a no nosense swing set that will keeping on swinging for years to comes.
Click Here to Buy Swing-N-Slide Orbiter Swing Set