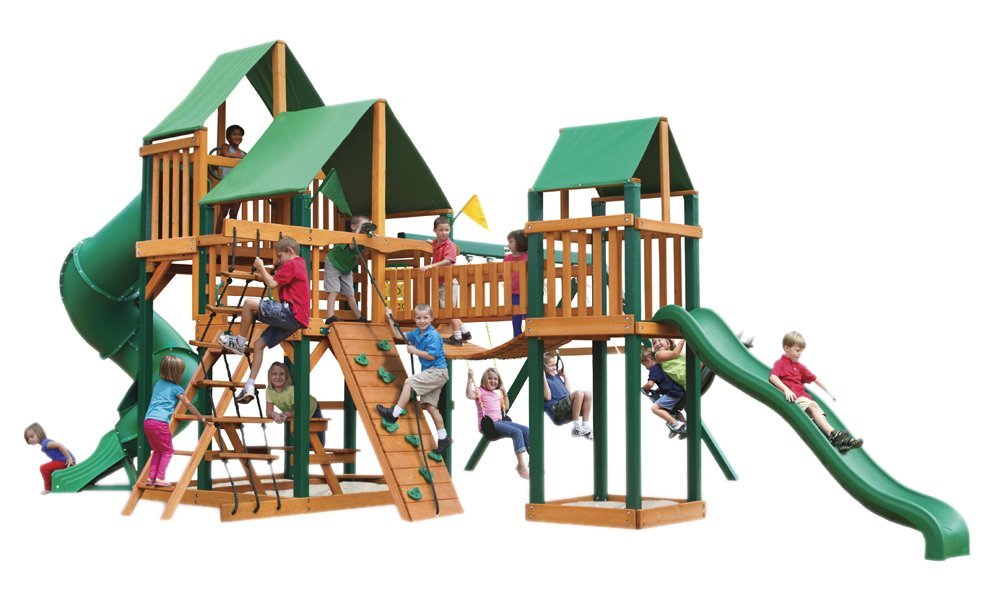 Click Here for Top Rated Swing Sets
Gorilla Playset Reviews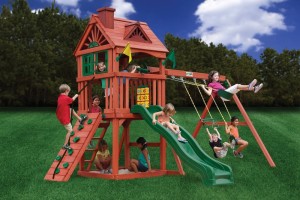 Gorilla Playsets say it in the name. Gorilla. These swing sets are big, powerful, and can endure a lot that is thrown at them. If you are looking for quality swing sets that are going to last a very long time then these are ones that you are going to want to take a look at.
With the quality that these swing sets produce it's no question as to why they are also beautiful. They have really raised the bar as to what it means to have the best swing set.
Gorilla has not only asked the consumer what they wanted in swing sets, but asked the children of the consumer and then delivered these fun, and never boring, swing sets. Your kids will devote many hours to exhausting themselves in these swing sets.
10 Year Warranty
Every one of their Gorilla Playsets comes with the wood pre-drilled, pre-cut, and pre-stained. They offer a 10 year warranty on the wood from any defect, wood decay, or rot. That is almost twice as long as several other companies. This in itself shows you the faith they have in their company and products.
Care and Maintenance
Of course, though they provide this quality wood, doesn't mean we don't do our part in making sure that it stays that way. The best way to care for your Gorilla Playsets and make sure it stays beautiful for a very long time is to stain and treat yourself about once a year. Even just doing this small task is going to make your swing set last so much longer.
Gorilla Playset Reviews
When creating an article like these reviews we want to make sure the consumer is getting exactly what they are researching. This means doing our part to deliver the most accurate and up to date information to help you make an informed decision.
We are sure to go over all the features and details of the product. If available, we get you information about install and how long you can expect to stay assembling. I know for me, if I am spending a pretty penny on something as big as a swing set I want to make sure I am getting the best Gorilla Playset Reviews.
Gorilla Playsets Treasure Trove Swing Set Review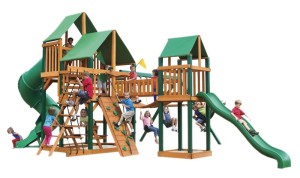 The first swing set we are going to be looking at is the Treasure Trove Cedar Swing Set. The name explains it all— it's cedar and it has a wood bridge!
Keep Those Kids Busy!
If you are looking for a great, large, lots to do swing set than this is definitely one you are going to want to take a look at. With so much to do, you will not have an issue trying to keep the kids busy over summer break.
And not only is there plenty to do, but it's beautiful as well. The gorgeous cedar wood will only improve your backyard to it's full potential. With the green accent color it compliments the rich cedar beautifully.
There are several things that will draw children to this particular swing set, the roomy playhouse on the second level, the wood bridge, and the double slides. But even aside from those things there is still lots to do!
Official Features:
Maintenance-Free Timber Shield Protective Poly-Coating on Main Beams.

Rock Climbing Wall to the Second Level
2 Belt Swings
1 Trapeze Handle Bars
2 Entry to Second Level by Way of Sturdy Ladder
Wood Bridge
Tower with 2 Slide- One Wave Slide, One Tube Slide

Roomy Semi-Enclosed Second Level Playhouse complete with Working Windows/Shutters, Wood Roof, Sunbursts lookout, Dormers and Chimney.

Semi-Enclosed Playhouse with 4 Working Windows/Shutters.

Telescope
Steering Wheel
Tic-Tac-Toe Panel
Gorilla Playset Review
I would call the time for assembly as a con in the Gorilla Playsets. Do be prepared that if you choose to assembly this playset yourself to set aside 16 man hours for installing. Depending on how many people you have that can be one day or 3 days. There will never be a dull moment with this gorgeous Treasure Trove Playset.
But isn't that worth it when it will fulfill your kid's playset dreams as well as giving them endless hours to exercise and expand their imagination?
Click Here to Purchase Treasure Trove Swing Set
Gorilla Mountaineer Playset Review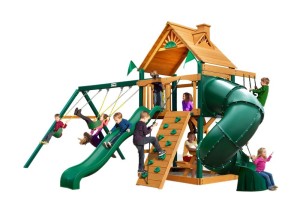 Our next swing set for the Gorilla Playset Reviews is the Mountaineer Playset. This beautiful swing set has many awesome features that will astound your child as they spend enormous amounts of time playing on it.
Customizable Lower Level
One of the best things I have found for this playset was the fact that it is customizable. There are several different variations for the bottom level of the playset.
You can customize the posts between the green or the plain cedar.
Or there is also an option for an eating bench and the option of a sand box or you can choose for the lower level an arch opening and fenced half wall.
And lastly, you can choose between a wood roof top with open windows and sunburst design or a green canopy sunshade.
Any of these features are going to be beautiful either way. For this playset specifically we are going to look at the eating bench with sand box and wood roof with windows and sunburst opening.
Other Features:
Trapeze Swing
2 Belt Swings
Rope Ladder
Rock Climbing Wall
Eating Bench and Sand Box on Lower Level
Tic-Tac-Toe Panel
Open Windows including Sunburst Opening
Telescope
Wavy Slide
Tube Slide
Gorilla PlaySets
The only thing this Gorilla playset doesn't have is monkey bars which can be a huge con for those with kids that love monkey bars. I know that is daughter's favorite features for swing sets. But I fully believe that there is enough on this awesome swing set where kids are equally going to be entertained.
Overall, I find that this playset will be a magnificent addition to almost any backyard. There are a lot of options for the kids to enjoy. Not to mention that the quality for the playset is outstanding and will last you many fun filled years.
Click Here to Purchse the Mountaineer Swing Set
Gorilla Playset Nantucket Swing Set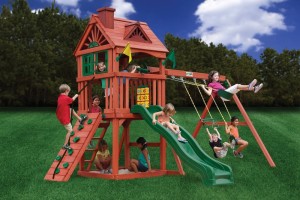 For our last review we are looking at the Gorilla Playset Nantucket Swing Set. There are several reasons for choosing this swing set. Firstly,  I love the Redwood Finish that it comes in. It's different and unique from many of the other swing sets I see. Plus, the Redwood finish itself is just gorgeous.
Secondly, if you are looking for the best swing set for the money, this would be the one.
It's no secret that Gorilla is one of the best swing set manufacturer's out there. The quality they offer with their swing sets is second to none. So finding a Gorilla Swing Set on a budget like this one is great. Not only do you get to the superb quality of Gorilla but you also get in within your budget.
Features:
Rock Wall with Rope

Wavy Slide
2 Belt Swings
Trapeze Swing
Windows with Sunburst Feature on Second Level
Sand Box on First Level
Tic-Tac-Toe Panel
Steering Wheel
Telescope
Decorative Flags
Gorilla Playsets
Like our previous Gorilla Playset Review this playset also does not have those beloved monkey bars. That would be the con in this playset. But if that it not something that you think would be a problem I highly recommend this playset. It's beautiful and it'll  meet a smaller budget while still giving you the quality to last for years to come.
Click Here to Purchase the Nantucket Swing Set