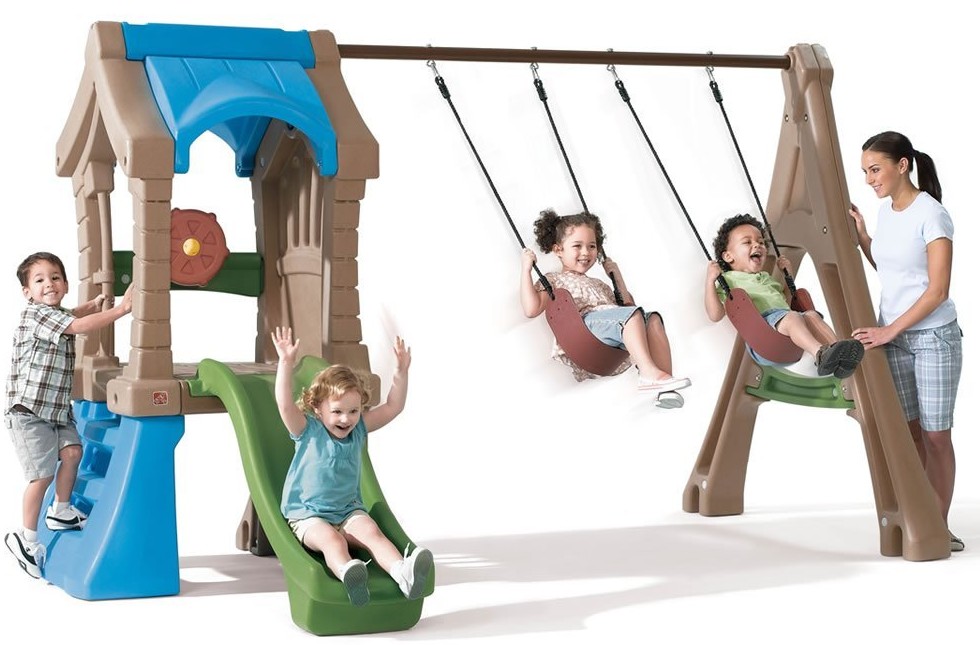 Swing Sets for Toddlers
Swing sets for toddlers are a great invention for our little humans that love to have fun, but on a smaller level than the bigger kids. We want to keep our little ones safe while still giving them an opportunity to have a good time while still growing and developing their motor skills.
As a parent, we all know the importance of developing those motor skills in a very healthy environment. If we don't have the right equipment, and safe equipment for our little ones it could be a huge determent to their growth. This is why I found it important to including this article about swing sets for toddlers. Giving parents the tools they need to make an informed, healthy, successful decision.
Great Company Products
When it comes to choosing the best swing sets for toddlers there are really a couple excellent manufacturers which I'm  sure you already know their names. Step2 and Little Tikes have been around a very, very long time. I remember having their products to play with when I was a child. I have always enjoyed their products as a child and as a parent. It's safe to say that they are a very well trusted companies that put our children first.
These companies have provided a good range of products. And along those products are the best swings sets for toddlers.
Safe and Quality Swing Sets
These swings sets for toddlers include age appropriate activities for lots of fun for several years. These playsets are usually made with a very heavy, very durable plastic that will withstand weathering, playing, and years. These playsets have been able to move down from child to child and even further than that.
Additionally, because these playsets for toddlers are made from plastic, they are super safe for little ones that are still developing those important motor skills such as walking, climbing, and running. The last thing these toddler need is an unsafe environment to test out these skills, leaving them open for unnecessary bumps and bruises.
Swing Sets for Toddlers
The no sharp edges and low to ground features, you can be confident that your little one will not only enjoy their time on these wonderful swing sets for toddlers, but also be safe doing it. Here are SwingSetResource we went ahead and looked at the most popular swing sets for toddlers to help you get a great idea as to what to look for when you are ready to purchase your playset.
Note: As an important note, although we love safe and fun playsets like these we are also huge fans in parental supervision. While providing a safe outlet for our toddler to play in, we must also keep in mind that no matter what our toddlers ultimately depend on us as parents to see that we are indeed safe and looked after.
Read, Review, Compare. Make an informed decision and let us help you do that!
Step2 Play Up Gym Set
Step2 does it again with this beautiful, fun, whimsical swing set. This is one of the most perfect swing sets for toddlers I have seen. Along with the beautiful colors, it offers the safe environment we long for as parents.
Add an infant swing!
With swings that are low to the ground which is a must for parents of toddlers. Available for purchase are infant swing seats so you can enjoy swinging even in the early years.
Fun and Creative
The fun and creative treehouse expands the imagination with the steering wheel. Let their mind take flight as they pretend to drive, fly,  or steel a pirate ship! With the easy to use and low to ground ladder you child can develop those climbing skills without worrying that they are going to fall over and hurt themselves.
The slide is perfect for those little ones with it's shot and low to ground feature. This will be one playset that you can relax and enjoy watching them discover the outside while not having to worrying about hurting themselves in the process.
Click Here to Buy Step2 Play Up Gym Set
Little Tikes Clubhouse Swing Set
With our next swing sets for toddlers review we are looking at Little Tikes. Little Tikes has always been a great company that makes great quality products, and this swing set is no excuse.
Bright and Colorful
This backyard swing set comes with a built in playhouse that is bright and colorful. It's perfect not only for toddlers but also to brighten up that backyard.
And with 2 ways to climb up it let's your toddler discover decision making in a fun environment. One side ladder is your traditional ladder made within the plastic set, while the other is rope ladder as they get older and advance their skills. Once they get to the playhouse they will find a steering wheel that will let their imaginations sore!
With the 2 low to ground swing you can also switch out those swings for an infant swing for those little, tiny humans. The short and low to ground slide is also perfect for little ones as they learn to test their limits. And until they master it themselves, the slide does come with a short hand rail.
Durable and Sturdy
This durable and sturdy is perfect for safe outdoor play for your little one. It will help them develop so many motor skills that will carry them the rest of their lives. Give them that great start through a swing set for specifically made for toddlers.
Click Here to Buy Little Tikes Clubhouse Swing Set
Step2 Clubhouse Climber
For our last review on the best swing sets for toddlers we are taking a different approach. Although this technically isn't a swing set, I do believe that is it a very beneficial playset for our little ones.
Motor Skills Galore!
Step2 does it again with this beautiful Clubhouse Climber. Within this climber your toddler will be able to grow and develop in a safe way.  Climbing, crawling, hiding, sliding, and balancing are all motor skills that will be enhanced because of a playset like this.
This unique two tower playset offers 2 slides on either slide giving your child the option to choose and use those important decision making abilities.
Stairs are a scary time for a parent during the toddler years. But the hand rails on the climbing ladder are perfect for helping your toddler master the stairs in a safe way.
Between the two towers is a look out bridge, which is great for fun and adventure your toddler will want to have. Underneath the playset is a crawl thru tunnel. If you are a parent you know how much toddlers enjoy crawling and getting into small places. But here we can give them a safe outlet to explore.
Best Swing Sets for Toddlers
You can't really go wrong with any of these 3 swing sets for toddlers. Each are unique in their own special way but will also equally provide a great experience for your toddler. I hope you have a better understanding on your purchase from this review article. Be sure to click thru each link to continue to compare before making your purchase.
Click Here to Purchase Step2 Clubhouse Climber