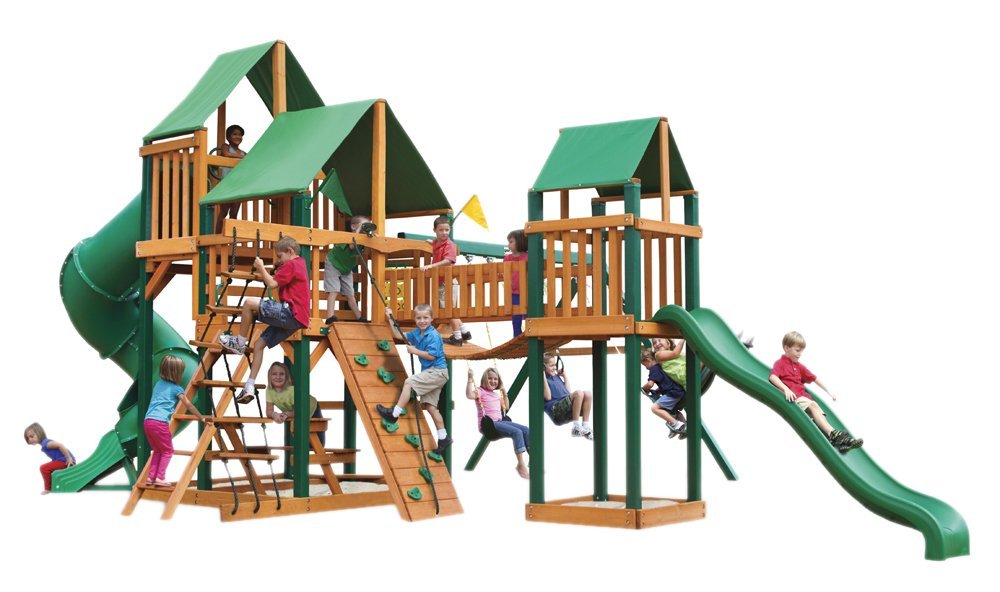 Swing Set for Older Kids
When it comes to choosing a swing set for older kids there are several things to consider. But overall, you want something that is going to match their skill level as well as being safe. You don't want to spend a lot of money on something that isn't going to interest your child so finding the best swing set for older kids can be a little tricky. You probably don't know where to start but here at Swing Set Resource we have gone ahead and compared some of the best swing sets perfectly matched for the older child skill level.
Skill Level
This is probably the biggest thing you are at when you are looking for a swing set for older kids. It's important to you that an older child is able to play and enjoy this swing set without feeling like they are too big or too bored with a swing set that may be geared for a younger child.
Usually swing sets that are geared for an older child (usually age 7+) are going to have more features and are usually a lot bigger than your general swing set. This gives the older child a lot to do and plenty to play with. Those bigger swing sets are for sure a lot of fun and any older child would most likely spend a lot of time playing on it. This also means you are looking at spending a little more than a smaller swing set as well.
Enough Space
Because we are looking at a bigger swing set you do need to keep in mind that you have enough space to handle such a monstrosity. Not only for the size of the swing set itself, but also for the room needed to swing higher and longer. Of course, if you are living on a bigger lot of several acres this will not be an issue for you.
Quality
As always, quality is a huge factor in finding a swing set for older kids. If you are spending money on something so big, taking the time to have it built, you are going to want to make sure it is going to last a long time. Long enough for all your children to enjoy and perhaps even a plethora of neighborhood kids as well.
Quality is additionally important because, obviously, when you have older children they are often heavier and rougher than smaller children. You want a swing set for older child that is going to stand the test of rough housing and weight that you wouldn't normally have to worry about with smaller, younger children.
_______________________________________________________________________
Backyard Playground Treasure Trove Swing Set

For our first swing set review for older children we are taking a look at the a beautiful Gorillaplay swing set.
GorillaPlay has been around a long time and has made beautiful, exquisite swing sets. They mostly gear their swing sets for older child. And because of that they know and understand the quality that is involved in purchasing such a swing set.
Features
And because of its size it have a very large assortment of features that will give a whole party of kids a good time all at once. Not longer do kids have to wait and take turns to do something since on this swing set there is something for each kid to do!
List of Fun:
Rock Wall with Climbing Rope.

Safe Entry Ladder.

Rope Ladder

Glider Swing designed for 1 or 2 riders.

2 swings
Tic-Tac-Toe Board
Plank Bridge
2 Slides– one tube and one traditional

Built-In Picnic Table

Deluxe Green Vinyl Canopies covering Platforms and Towers.
With a list of features like this, you can be sure that your child(ren) will not be bored anytime soon!
10 Year Limited Warranty
To stand by their product GorillaPlay has instituted a 10 year limited warranty on all the wood that is feature on this beautiful cedar playset. The wood is also pre-sealed to prevent rot, and insect decay. With the pre-treated, pre-stained, quality cedar wood you really shouldn't have much issue with the wood anyway, but in case there is one– GorillaPlay will stand by their product.
Assembly
If you are are not hiring this assembly out, keep in mind that it may take you a couple days to assemble. Make sure you are heading into good and pleasant weather before starting a project like this. Also be aware that you may have to pre-drill some of the holes for optimal performance with the wood.
If you hire out assembly, you can expect it to take a couple 3-6 hours.
Overall, this is a beautiful swing set for older kids that is built to last. It will be a highlight of your backyard for years to come. Send those kids outside when the weather is nice then treat yourself to a nice quiet cup of coffee.
Click Here to Buy Backyard Playground Treasure Trove Swing Set
_______________________________________________________________________
Adventure Skyfort All-Cedar Play Set

For our next swing set for older kids we are turning our attention to Backyard Discovery. Backyard Discovery is another really great swing set manufacturer that gets it right.
They provide an assortment on several different kinds of swing sets, all of which being great in design and quality.
Swing Set with Treehouse
One of the more unique things about this swing set for older kids is the treehouse. Often times the best swing sets have towers and bridges but rarely do they exhibit an actual treehouse look. It's a quaint little home and will likely be the place of many spent hours.
Within the treehouse you get a cool lookout only accessible through the treehouse. The bay windows inside also add a beautiful look.
The roomy front porch of the treehouse also gives that homey look while also keeping your children out of the sun just a little more.
Swing Set Features
Monkey bars

Two belt swings

Two-person glider

Lower deck with picnic table

10 Ft. Wave Slide
Rock Climbing Wall
Assembly
Except to plan for 18-25 man hours. Depending on  how many people you can get to help you that could mean 1-3 days with those man hours broken up. It is also a good idea to level and make sure you have the right land grade. A level swing set is really the best way to go for all swing sets.
Click Here to Buy Adventure Skyfort All-Cedar Play Set
 _______________________________________________________________________
Backyard Discovery Woodridge II
For our final swing set for older kids we are going to continue to look at Backyard discovery but just a different style. All the Backyard Discovery swing sets offer great quality swing sets but just offer different styles that may fight your different needs.
Features
With this swing set for older child this design also has a beautiful treehouse although it is a little more rustic than the previous one we had looked at.
Along with having an open concept, this treehouse also includes a beautiful wrap around porch, half of which is covered.
Other features:
Elevated tunnel with rock wall ladder access

Bench seat under fort with wood floor

Sand box area under covered porch

2 Swings

Trapeze Bars.
Wave Slide
Best Swing Set for Older Kids
Along with with the amazing reviews on Amazon, you can expect that this swing set is going to be a great swing set for older child. It meets all the need and skills for an older child, while also being large enough and having the quality to endure the use of an older and bigger child.
Click Here to Buy Woodridge II All Cedar Wood Playset