Best Metal Swing Set
If you are looking for reviews for the best metal swing sets you have come to the right place! We offer informative reviews that will help with your research on the best metal swing sets. All the best metal swing sets are carefully sorted and reviews to make sure that you are getting the best and most durable swing set out there.
Metal Swing Set Myth
I would like to take the time right now and dispel a widely known myth about metal swing sets. Just because it is metal doesn't mean it's cheap or not pretty. Over the years, metal swing set sales have fallen to the best wooden swing sets. Now, there is a lot to be said about the beauty of wooden swing sets.
But it doesn't mean the best metal swings sets aren't equally awesome.
Over the years manufacturers have figured out a way to bring back many of the best metal swing sets. And now they are doing better than ever!
The best metal swing sets have been a great comeback and are more sturdy and beautiful than ever. With how great they are now, we should be proud to own one!
The Good Old Days
If you are like me, you may have grown up with a meta swing set. We played for hours and hours on that thing. Even as I got older it was so therapeutic to have a place to swing quietly and relax (that is when my brothers and sisters weren't climbing all over it).
What a great gift to give your children.
A place where they can be themselves either having fun or relaxing quietly.
 ______________________________________________________________________________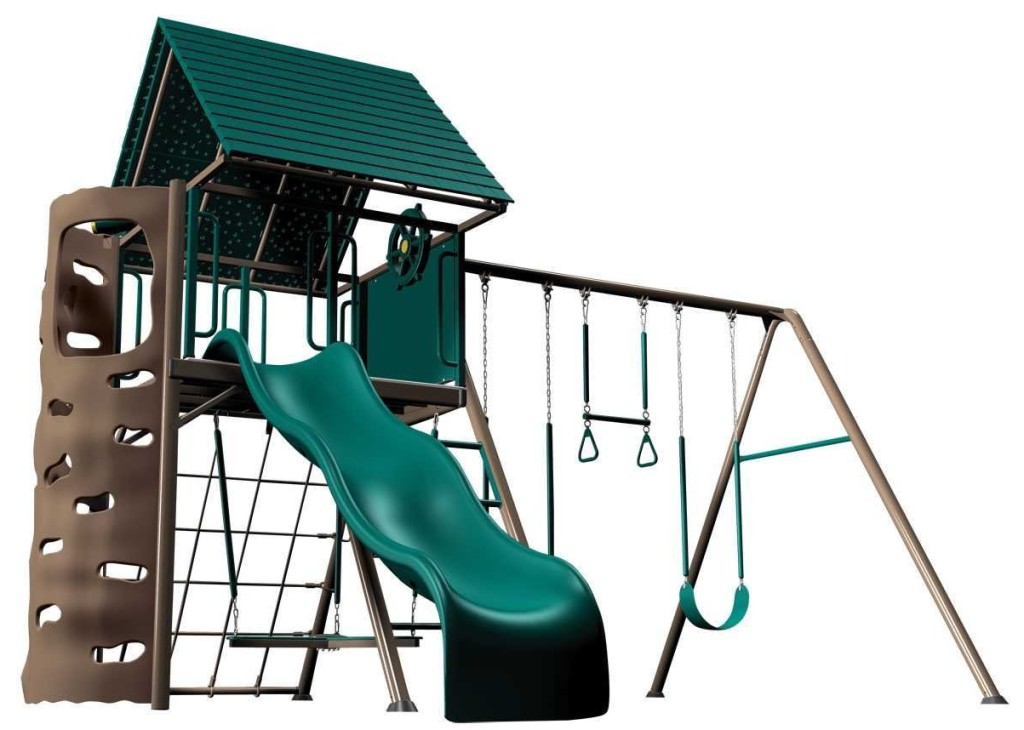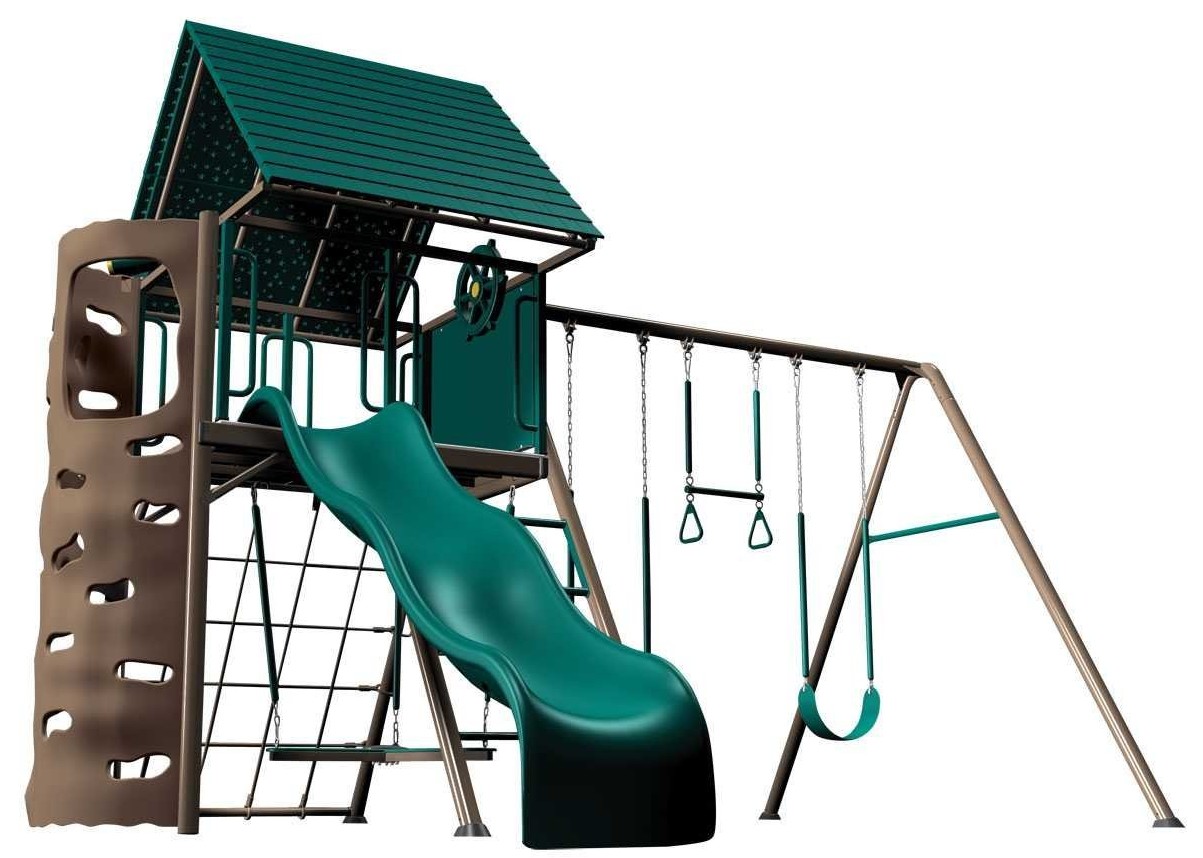 Lifetime Big Stuff Adventure Play set
This is probably my favorite best metal swing set. The classic, yet elegant look throughout this entire set is gorgeous. It would be compliment to any backyard. Not to mention that Lifetime is a great company that offers quality and stability to all their swing sets.
I reason I like this one is because it gives the look of a wooden swing set but mixes it with a modern look with the metal.
If you live in a very windy area this is definitely a swing set to consider. It is heavy and stable. It would even give those wooden swing sets a run for their money.
It's made of a high density polyethylene and steel. It is weather resistant and will not warp, rot, crack, like wooden swing sets.
Features:
Wavy Slide
2 Belt Swings
1 Trapeze Bar
Climbing Wall
Cargo Net
Activity Board
Propeller Swing
Covered Clubhouse
Pros: Beautiful swing sets with lots of features. Heavy duty and design for safety. 5 year limited warranty.
Cons: Although no cement is required for assembly, it probably will require some expertise because of it's heavy duty nature. The price tag is a little on the higher end for metal swing set, but I believe this best metal swing set will earn its keep.
Metal Swing Set Reviews
If you are looking for something a little different than the a wood base swing set, but also wanted something a little more heavy duty then regular metal swing set then you have found just the right one.
This swing set is also available in 2 different colors for your preferred choice.
The modern, yet classic swing set will give your kids a grand time. With the features as well as the safety measures put in place you can bank that this swing set will be a favorite place for many years.
Click Here to Buy Lifetime Big Stuff Adventure Play set
______________________________________________________________________________

Flexible Flyer "World Of Fun" Swing Set
For our first best metal swing set we are looking at the Flexible Flyer "World of Fun" Swing Set. Now  Flexible Flyer has been around a long time.
I remember having their swing set as a kid. And let me tell you, it lasted a long time. I want to say about 15 years before my parents took it down because all of us outgrew it.
I love the colors these days. Painted with a quality paint to withstand the weather, this is one swing set that will look  fantastic in you backyard.
Features:
SeeSaw
2 Different 2 Person Gliders
2 Swings
Trapeze Swing
Wavy Slide
Up to 10 kids can play on this swing set! That is amazing for the best metal swing sets! This USA made also comes along with a 180 limited manufacturer warranty. Unlike wooden swing sets you don't have to worry bout wood decay, but just to be sure the company gives us that warranty just in case something happens.
Pros: Lots to do! Beautiful Colors! Warranty.
Cons: It has been said that assembly is a bit of a pain. But if you are familiar with putting together metal swing sets this really shouldn't be a problem! If you are unable to put it together yourself, I do recommend getting an installer which can be done through Amazon as well!
Click Here to Buy Flexible Flyer "World Of Fun" Swing Set
______________________________________________________________________________

Sportspower Mountain View Metal Swing Set
For our last metal swing set review we are turning to the Sportspower Mountain View Swing Set. Honestly, I have not heard much about Sportspower but from the reviews of most of their products it seems that they make a pretty great product.
It's not often so many products from a single company get such great reviews.
Budget Friendly
If you are on a smaller budget and you wanted something a little less expensive this is a great swing set for that. I know many people that don't need a huge swing set, but would like something for their grandkids or nieces and nephews to play on but not spending a fortune. This is perfect for that.
Features
2 Belt Swings
Slide
2 Person Glider
Flying Saucer
Jump Swing Trampoline
Pros: Heavy duty and weather resistant. Lots to do. Great for the budget
Cons: It has been said that the directions can be difficult to understand, especially if you aren't used to assembling swingsets.
Metal Swing Set Reviews
If you are looking for something that will get the job done and have the quality and stability to endure 8+ kids than you definitely need to check this one out. It's a well made, simple, and enjoyable metal swing set that will be great for kids of all ages.
Sportspower Mountain View Metal Swing Set