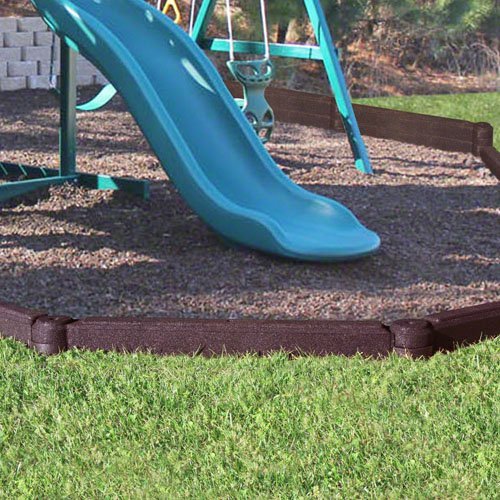 Rubber Playground Borders
Are you looking for a crisp clean way for your playground area? Or maybe you want to protect your rubber mulch investment? Rubber Playground Borders may be your answer.
Admit it, as much as we try to keep areas clean and organized, when you have kids around havoc ensues. In fact, my 2 year old is currently running around half naked throwing his toys as he passes me. The struggle is real, folks.
Crisp, Clean, Finished
Rubber playground borders have come a long way from our growing up years. In fact,  most playgrounds didn't even have borders. Often times mulch would end up mixes in with the grass and slowly, but surely the weeds and grass would completely over take the mulch and playground area.
This not only waste the time you used to set up, but a lot of money as well.
Rubber playground borders protect our investments while also making the play area look crisp, clean, and finished.
Protect our Kids
The idea for the rubber is to protect the most important investment: our kids. Before the rubber borders made their debut, we were using 4×4 blocks of wood. While this does look quite beautiful, I think we can all agree that not only is this pretty expensive, but also leaves us with the possibility of our kids tripping and hurting themselves of the sharp, hard edges.
Lucky for us, the idea of safer and better playground borders have come a long way. We are now given several different option to choose from, all of which have the potential to help us create a beautiful landscaped playground area.
KidWise Molded 6 inch Tall Borders-Brown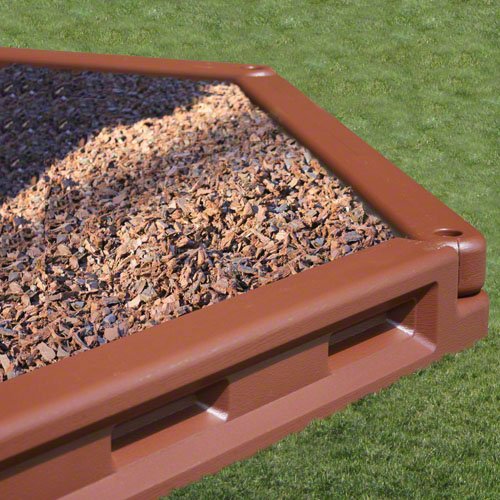 If you read the Rubber Mulch Review you are then familiar with KidWise and their products. They specialize in playground equipment to keep kids playing safe.
Safety in Mind
These interlocking border pieces are made with one of the softer plastics. Not too soft that you have to worry about breakdown, but still soft enough to protect out kids should they slip and fall in their direction.
The rounded corners are especially great and child proof as opposed to their wooden alternatives.
Interlocking Connection
The interlocking science to these borders is perfect for a clean, crisp look while still keeping the materials inside the play area.
Each 48"L x 4″ W x 6″ H comes complete with a spike to help keep this border in place.
Most day cares or public rec zones require a certain amount of mulch within the play area. When you get some of these awesome rubber borders you are allowing yourself that much more space to work within those requirements while still keeping the material in the area it should be.
Click Here to Buy KidWise Molded 6 inch Tall Borders
FlexiStack 4 Foot Rubber Border – Brown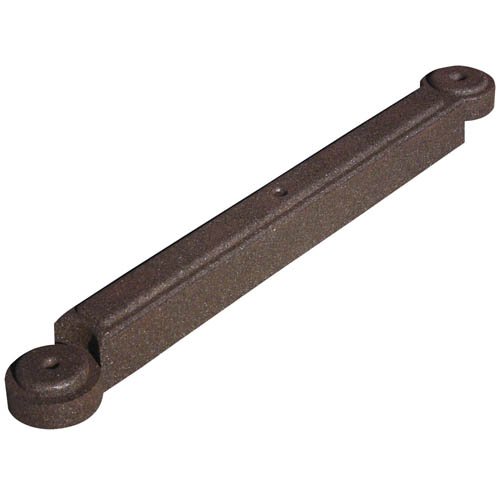 For our next rubber playground border review we are looking at FlexiStack. FlexiStack offers a great product that beautiful yet holds many other qualities both for the environment and for our children.
Environmentally Friendly
This rubber border is environmentally friendly from the recycled materials that they use. Not only does this border look beautiful, but it has done its job with helping our earth as well.
The elegant design simply compliments all landscape and playground areas with it's 5 available colors.
With the interlocking system that is built in, you will have a seamless and finished look that will go throughout your entire yard. No more of the brick, block method, but rather a curvy more appealing look that is classic for any backyard.
Keeping Kids Safe
The rubber used within this border has no hard edges for our kids to hurt themselves on. And with the stakes that are included you can safely secure them in place.
Click Here to Buy FlexiStack 4 Foot Rubber Border – Brown
KidWise Flexible 8ft Rubber Residential Mulch Border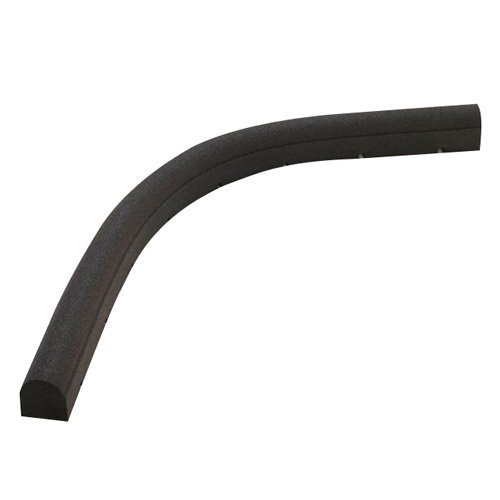 With our last rubber playground border review we are going with something a little different. While we have already discussed KidWise and their quality product, they also have another rubber border that is definitely worth taking a look at.
Flexible Borders
This flexible rubber border is a great new product that specializes in conforming to your exact area of needs for either landscape or play areas.
The flexible pieces coming in at 8ft long and 6 inches high with a minimum order of 8 you can start your journey to completing a beautiful oasis with these elegant pieces.
One of the best things about these flexible borders is that these are environmentally friendly as well. The durable features are a bonus to the already kid friendly border.
Rubber Playground Borders
The overall dimensions are – 96″ long x 4″ wide x 6″ Tall. The beautiful rich brown color will be perfect against any playground area. The soft and flexible features are perfect for child safety, while still adhering to the purpose of keeping the material in its place.
KidWiseClick Here to Buy Flexible 8ft Rubber Residential Mulch Borders