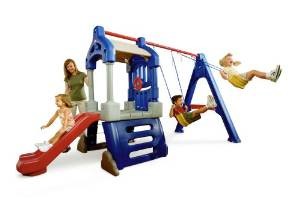 Keeping in your mind child's age is important when buying a swing set. You want to make sure you are getting as much use out of your swing set as possible. That means buying an age appropriate swing set that will last for years to come.
With the Best Swing Sets for Toddlers you are looking for something between the ages of 18 months and 4. So while those huge wooden swing sets look great, your toddler probably won't be able to enjoy them for quite a few years. Until then though reading about the best swing sets for toddlers will help you decide on the perfect one for now.
The Best Swing Sets for Kids involves the ages of about 4-10. These are swing sets ideal for this age group, though shouldn't be bond to only this age group. Knowing how active kids are and their ability at this age is kept in mind while creating these articles to help you with your purchase.
The Best Swing Sets for an Older Kids range mostly between 8-14. You're younger child shouldn't be guarded against these swing sets, but additional supervision may be required since these swing sets are designed for an older child in mind.